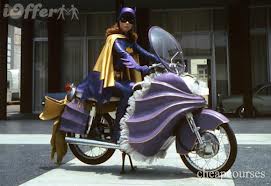 The 1966 Batgirl Cycle was a purple motorcycle driven by Batgirl in the 1960s TV series Batman. It appeared all throughout the 3rd season of the show. As Batman had The 1966 Batmobile, Batgirl had the Batgirl Cycle.
Ad blocker interference detected!
Wikia is a free-to-use site that makes money from advertising. We have a modified experience for viewers using ad blockers

Wikia is not accessible if you've made further modifications. Remove the custom ad blocker rule(s) and the page will load as expected.