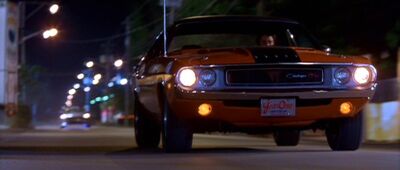 The Challenger was described in a book about 1960s American cars as Dodge's "answer to the Camaro and Mustang. "Both the Challenger and Barracuda were available in a staggering number of trim and option levels" and were intended "to compete against cars like the Chevrolet Camaro and Ford Mustang, and to do it while offering virtually every engine in Chrysler's inventory. However, the Challenger was "a rather late response to the wave the Ford Mustang had started. Exterior design was done by Carl Cameron, who also did the exterior for the 1966 Charger. Cameron based the 1970 Challenger grille off an older sketch of his 1966 Charger prototype that was to have a turbine engine. The Charger never got the turbine, but the Challenger got that car's grille. Although the Challenger was well received by the public (with 76,935 produced for the 1970 model year), it was criticized by the press, and the pony car segment was already declining by the time the Challenger arrived. Sales fell dramatically after 1970, and though sales rose for the 1973 model year with over 27,800 cars being sold, Challenger production ceased midway through the 1974 model year. 165,437 Challengers were sold over this model's lifespan.
Engine Choices by Chrysler included the following:
Edit
225 cu in (3.69 L)
318 cu in (5.21 L)
340 cu in (5.6 L)
360 cu in (5.9 L)
340 cu in (5.6 L)
383 cu in (6.28 L)V8 Magnum
440 cu in (7.2 L) V8 Magnum
440 cu in (7.2 L)
Use in 2 Fast 2 Furious
Edit
This Challenger is Orange with a colored hood scoop, stripe across the tail, and a vinyl top. This car is won by Roman Pearce in a tag team race. Pearce uses this car to escape detection of cops in the car scramble towards the end of the movie and uses it to distract Carter Verone's thugs and eventually totaling the epic car.