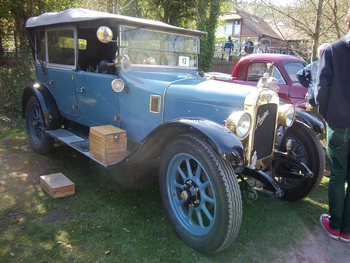 Gumdrop is a 1926 Austin Clifton Heavy Twelve-Four from the Gumdrop series of children's books, written and illustrated by Val Biro.

Gumdrop appeared in 37 stories from The Adventures of a Vintage Car (1966) to Gumdrop's School Adventure (2001).
During his literary life he encountered characters such as the Loch Ness Monster and Father Christmas as well as discovering a (Rolls-Royce) Silver Ghost and taking part on his own unofficial London to Brighton Run. In the books, he was at first owned by the young Bill McArran but later by the older Josiah Oldcastle.
Gumdrop continued to be owned and run by Biro until his death in 2014.
In 2012 a highly detailed model of Gumdrop was made by Oxford Diecast.