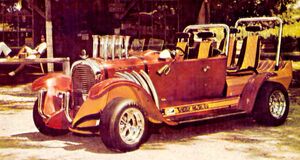 This version of the Beverly Hillbillies Jalopy was built for the character, Jethro, played by Max Baer. Max decided Jethro needed a automobile that had more style and speed than the old jalopy, and that could compete with the Clampetts. So the producer, Paul Hennning called on George who worked on the original 1921 Olds Roadster.
After convincing a classic car collector to sell his 1921 Olds Roadster, the car was hauled to the Barris shop and construction began. The complete body was removed and the chassis modified to accept the '69 Oldsmobile 442 engine, automatic transmission, and rear axle. Brakes were brought up to date in order to handle the added weight and power. Cragar chrome mag wheels were installed and Firestone Indy Super Sport tires mounted. Specially tuned dual exhaust was hand built to engine specifications adding to the total power output. The body was reworked to bring the car up to the high standard of the Barris metal finishers. The fenders were bobbed in front and rear, and supercharger relief pipes fitted from the hood side to the inside of each front fender. High rise injector tubes were installed in the top of the hood, and chrome nerf bars fitted to the frame horns acting as front bumpers. Once the body was completed, a finish coat of Fire Red Metalflake paint was applied with accent yellow racing stripes running along the rocker panel. The pick-up bed was hand built in wood to simulate a spoiler type platform with tow parachutes mounted at the rear for emergency stopping. Four bucket seats were hand built and fitted with head rests, and trimmed in matching yellow using black as an accent color, stitching the vinyl in a crisscross pattern. Two of the seats were installed replacing the old bench seat formerly used in this vintage roadster, while the other two were positioned just behind the driver passenger compartment on top of the specially finished wood spoiler platform, much like the old park bench mounted on the original pickup truck used on the series. The huge roll bars were hand built, chromed and mounted over each pair of seats. Just to add a touch of the old, a brass still type horn was mounted aside the cowl within the driver's reach. MPC model company made both roadsters avail as a model kit.
Ad blocker interference detected!
Wikia is a free-to-use site that makes money from advertising. We have a modified experience for viewers using ad blockers

Wikia is not accessible if you've made further modifications. Remove the custom ad blocker rule(s) and the page will load as expected.