Fea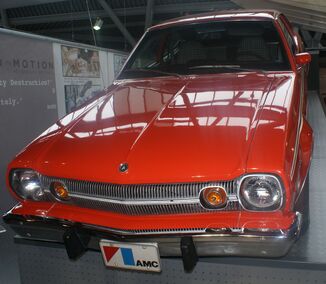 tured in The Man with the Golden Gun. Bond steals this red 1974 hatchback from an AMC dealership in Bangkok, Thailand. He makes his exit by crashing through the showroom window. unknowing that Sheriff J.W. Pepper was in it looking to test drive it. A Hornet was also used for the famous twisting corkscrew aerial jump that was captured in just one filming sequence. A special modified car performed the stunt with a lower stance and larger wheel wells (just as the Astro Spiral Javelin stunt cars that performed that same jump in AMC sponsored thrill shows) compared to the stock Hornet X model in all of its other appearances in the movie. Seven tests were performed in advance before the one jump performed by an uncredited British stuntman "Bumps" Williard for the film with six (or 8, depending on the source) cameras simultaneously rolling. Two frogmen were positioned in the water, as well as an emergency vehicle and a crane were ready, but not needed. An engineer at the Cornell Aeronautical Laboratory (CAL) used computer modeling to calculate the stunt and specified 1,460.06 kilograms (3,219 lb) for the weight of car and driver, the exact angles and the 15.86-metre (52 ft) distance between the ramps, as well as the 64.36-kilometre-per-hour (40 mph) launch speed. This vehicle is on display at the National Motor Museum, Beaulieu.
Ad blocker interference detected!
Wikia is a free-to-use site that makes money from advertising. We have a modified experience for viewers using ad blockers

Wikia is not accessible if you've made further modifications. Remove the custom ad blocker rule(s) and the page will load as expected.