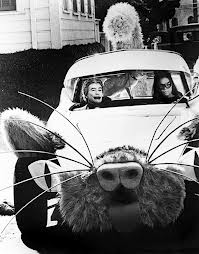 Catwoman's Cat Car
appeared in two episodes of the live-action TV series Batman "The Funny Feline Felonies" and "The Joke's On Catwoman". It was driven by Eartha Kitt's portration of Catwoman in the series. It was green and had the features of a cat such as wiskers and a tail. Catwoman used the car in a made up attempt to kidnapp the Joker so the could team up to commmit a crime. The car had a cockpit roof which could be lowered and raised to get in and out of the car.
Ad blocker interference detected!
Wikia is a free-to-use site that makes money from advertising. We have a modified experience for viewers using ad blockers

Wikia is not accessible if you've made further modifications. Remove the custom ad blocker rule(s) and the page will load as expected.