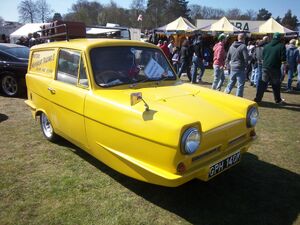 Del Boy's Reliant Regal
was the vehicle of choice for Del Boy in the long-running British sitcom
Only Fools and Horses
. The exact model is a Reliant Regal Supervan III. It sported a yellow paint job with 'TROTTERS INDEPENDENT TRADING CO' written on the side and 'NEW YORK, PARIS, PECKHAM' beneath that in black. The vehicle was often very dirty and covered in various marks. It also had fluffy dice and a 'Tax in Post' tax disc. It was portrayed as being very unreliable, but any breakdowns were staged and the vehicle was, in fact, said to be very reliable.
An example of Del's van can be seen at the National Motor Museum in Beaulieu, Hants. Another could be seen at the Cars of the Stars Museum in Keswick, Cumbria, before the museum closed in May 2011. While the rest of the collection was shipped to Florida to be displayed in the Dezer Collection, the Reliant was the only vehicle kept by the museum's founder, Peter Nelson.
A model has been made by Corgi. It can be purchased individually or with Del Boy's green Ford Capri.