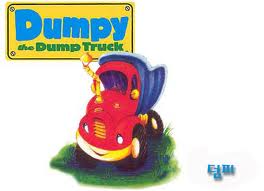 Dumpy the Dump Truck
is an anthropomorphic dump truck and the main character of the children's book series of the same name. In the book, a boy and his Grandfather bring back to life an old dump truck that had been sitting in the Grandfather's barn for years. The dump truck is thrilled to be running again and throughout the rest of the series, Dumpy goes on adventures with his friends.
Ad blocker interference detected!
Wikia is a free-to-use site that makes money from advertising. We have a modified experience for viewers using ad blockers

Wikia is not accessible if you've made further modifications. Remove the custom ad blocker rule(s) and the page will load as expected.