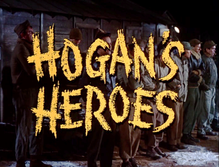 Hogan's Heroes 
was a Millitary sitcom, which aired for six seasons on CBS from 1965 to 1971. The show was set in a German prisoner of war (POW) camp during World War II. Bob Crane starred as Colonel Hogan, coordinating an international crew of Allied prisoners running a Special Operations group from the camp. Werner Klemperer played Colonel Willheim Klink, the kommandant of the camp, and John Banner was the inept sergeant-of-the-guard, Sgt. Schultz.
Star Cars
Edit
Ad blocker interference detected!
Wikia is a free-to-use site that makes money from advertising. We have a modified experience for viewers using ad blockers

Wikia is not accessible if you've made further modifications. Remove the custom ad blocker rule(s) and the page will load as expected.