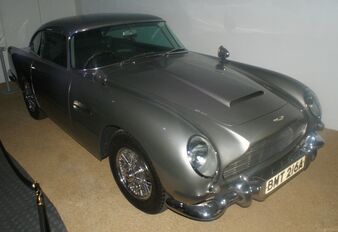 The
Aston Martin DB5
is one of the most famous cars in the world thanks to Oscar-winning special effects expert (also known as 'the Real Q') John Stears, who created the deadly silver-birch DB5 for use by James Bond in
Goldfinger
(1964). Although Ian Fleming had placed Bond in a DB Mark III in the novel, the DB5 was the company's latest model when the film was being made. The car used in the film was the original DB5 prototype, with another standard car used for stunts. Two more modified cars were built for publicity tours after the film's release. In January 2006, one of these was auctioned in Arizona; the same car was originally bought in 1970 from the owner, Sir Anthony Bamford, by a Tennessee museum owner. A car, mainly used for promoting the movie, is now located in the in the Louwman Museum,Netherlands. The first DB5 prototype used in
Goldfinger
with the chassis number DP/216/1 was later stripped of its weaponry and gadgetry by Aston Martin and then resold. It was then retrofitted by subsequent owners with nonoriginal weaponry. The Chassis DP/216/1 DB5 was stolen in 1997 from its last owner in Florida and is currently still missing.
Within the universe of James Bond, the same car (registration BMT 216A) was used again in the following film, Thunderball, a year later. A different Aston Martin DB5 (registration BMT 214A) was used in the 1995 Bond film, GoldenEye<, in which three different DB5s were used for filming. The BMT 214A also returned in Tomorrow Never Dies (1997) and was set to make a cameo appearance in the Scotland-set scenes in The World Is Not Enough (1999), but these were cut in the final edit. Yet another DB5 appeared in Casino Royale (2006), this one with Bahamian number plates and left-hand drive (where the previous British versions had been right-hand drive). Another silver-birch DB5 with the original registration BMT 216A appeared in the 23rd and 24th Bond films, Skyfall (2012) and SPECTRE (2015).
A highly detailed 1:24 scale die-cast model with many working features was produced as a limited edition by the Danbury Mint. A highly detailed kit was also produced by Airfix between 1966 and 1970.
In January 2011 a 1/8 scale model was released by part work magazine publisher GE Fabbri in the UK. Over 85 weekly parts, the model builds into one of the biggest 007 scale models to date, with working gadgets and lights.
On 1 June 2010, RM Auctions announced the upcoming auction of a DB5 used in both Goldfinger and Thunderball. The owner (Jerry Lee, President/Owner of WBEB Radio in Philadelphia, PA) originally bought the car from the Aston Martin company in 1969. At the auction, the DB5 was sold for 2,600,000 GBP.