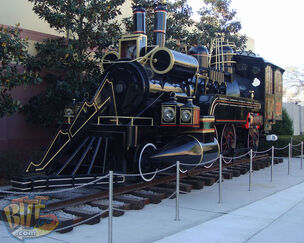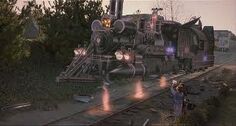 The
Jules Verne Train
or "Train Time Machine" or simply The "Time Train", labeled "ELB" on each side after it's creator, was the culmination of Emmett Brown's previous experience with building the DeLorean time machine and working with the steam locomotive that pushed it to 88 mph . It was a time machine itself that ran off of steam rather than gasoline, built from after 1885 to 1895. When Doc succeeded in its first temporal displacement test, he and his family traveled to 2015 or beyond to give it a hover conversion.
The locomotive is loosely based on Sierra No. 3, the locomotive used in previous scenes in the film, as well as many other films and TV shows.
Ad blocker interference detected!
Wikia is a free-to-use site that makes money from advertising. We have a modified experience for viewers using ad blockers

Wikia is not accessible if you've made further modifications. Remove the custom ad blocker rule(s) and the page will load as expected.