The character of
KITT
(Knight Industries Two Thousand) in the original Knight Rider series was physically embodied as a modified 1982 Pontiac Trans Am with numerous special features such as Turbo Boost (which allowed quick bursts of speed or jumping over obstacles), the ability to drive 'himself', a front mounted scanner bar that (among other things) allowed KITT to 'see', and 'molecular bonded shell' body armour that was portrayed to be invulnerable to diamond headed drills, small arms fire, the impact of thrown objects, and even high speed impact with cinder block wall. The armour could also resist most artillery and explosive blasts although a strong direct hit could cause severe damage. A refit in the 1985 season included the addition of "Super Pursuit Mode" and a convertible top. The car's voice was supplied by actor William Daniels.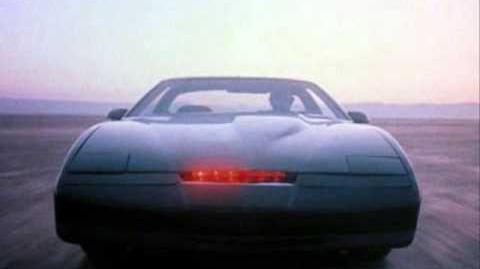 Ad blocker interference detected!
Wikia is a free-to-use site that makes money from advertising. We have a modified experience for viewers using ad blockers

Wikia is not accessible if you've made further modifications. Remove the custom ad blocker rule(s) and the page will load as expected.