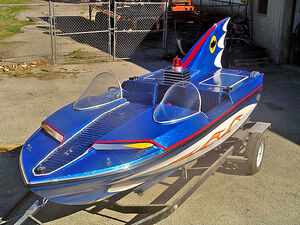 The first appearance of the Batboat was in the 1966 film Batman. It was subsequently used in the 1960s Batman television series. It was created by Glastron Industries.
Mel Whitley and Robert Hammond designed the Batboat from a Glastron V-174. They added a red flashing beacon, glowing eyes, batzooka hatches, seats for both Batman and Robin at the front of the boat, twin wind screens, a center console, an outdrive jet cover, and an aft to deck cover with a glowing Bat-Signal on the tail fin. Although the boat was powered by a Merc Cruiser Chevrolet V-6 and Attwood Corporation manufactured the hardwire, a water squirter and a jet nozzle were added to make the Batboat look like it was nuclear-powered. It took 31 days to build.
Ad blocker interference detected!
Wikia is a free-to-use site that makes money from advertising. We have a modified experience for viewers using ad blockers

Wikia is not accessible if you've made further modifications. Remove the custom ad blocker rule(s) and the page will load as expected.