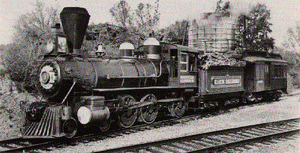 The
Hooterville Cannonball
was a fictional railroad train featured in
Petticoat Junction
, an American situation comedy that was produced by Filmways, Inc., and originally aired on the CBS network from 1963 to 1970. The show was created by the same production team responsible for
The Beverly Hillbillies
and it shared some characters and its locale, the fictional town of Hooterville, with
Green Acres
, and shared the theme common to all. The shows featured rural characters in humorous and sometimes absurd situations.
The most unusual "character" in the Petticoat Junction cast was the Hooterville Cannonball, an abbreviated train with a steam locomotive and single combination baggage and passenger car, operated more like a taxi service by its engineer and conductor, Charley Pratt (Smiley Burnette) and Floyd Smoot (Rufe Davis) on a long forgotten spur between Hooterville and Pixley that no longer connected to the railway's main line. It was not uncommon for the men of the Cannonball to make an unscheduled stop in order to go fishing or pick fruit for Kate Bradley's menu at the Shady Rest Hotel. Occasionally, Betty Jo Bradley could be found with her hand on the Cannonball's throttle, as driving the train home from trips into town was one of her favorite pastimes.
Homer Bedloe, played by actor Charles Lane, was vice president of the C.&F.W. Railroad. Bedloe was a mean-spirited executive who visited the Shady Rest Hotel periodically attempting to find justification for ending the train service of the Hooterville Cannonball (and never succeeding).
There were actually two Hooterville Cannonball trains used for filming. The working model was the Sierra No. 3 locomotive and was used to film all the "long shots" including the show's opening and closing credits. This locomotive had a complete restoration at in California, which was finished in 2010. A full-scale mock-up of the actual train built for use in Hollywood in the 1950s was used on the studio sound stage.