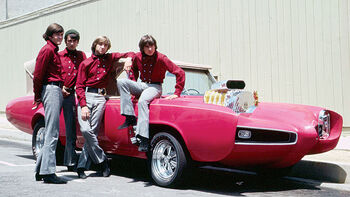 The
Monkeemobile is a modified Pontiac GTO that was designed and built by designer Dean Jeffries for the Monkees, a pop-rock band and stars of their own television programme. The car features a tilted forward split two-piece windscreen, a touring car T-bucket-type convertible roof, modified rear quarter panels and front fenders, exaggerated tail lamps, set of four bucket seats with an extra third row bench where the rear deck should have been, a rear-mounted parachute and a GTO emblem on the front grille.
Ad blocker interference detected!
Wikia is a free-to-use site that makes money from advertising. We have a modified experience for viewers using ad blockers

Wikia is not accessible if you've made further modifications. Remove the custom ad blocker rule(s) and the page will load as expected.