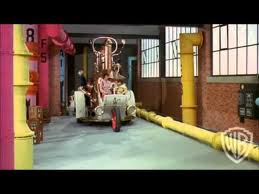 The Wonkamobile was a vehicle specially made by Willy Wonka to run on the carbonation in different types of soda: "ginger ale, ginger pop, ginger beer, beer bubbles, bubble-ade, bubble cola, double cola, double bubble, burp-a-cola, and all the crazy carbonated stuff that tickles your nose."
The Wonkamobile reached up to about 10-miles-per-hour top speed in the factory.
The Wonkamobile had a huge boiler and pipes that spit out the carbonation bubbles onto the passengers rather comically. It then went through a "Hsawaknow" ("Wonkawash" spelled backwards) which cleaned the suds off the passengers.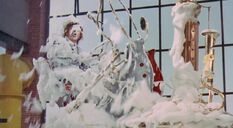 The Wonkamobile never appeared in the novel Charlie and the Chocolate Factory
Ad blocker interference detected!
Wikia is a free-to-use site that makes money from advertising. We have a modified experience for viewers using ad blockers

Wikia is not accessible if you've made further modifications. Remove the custom ad blocker rule(s) and the page will load as expected.